TIME
Current & Breaking News | National & World Updates
'Get to Higher Ground Immediately.' Tsunami Warning Across Alaska After Massive Earthquake Off Coast
Tue, 23 Jan 2018 10:23:58 +0000
An earthquake with a magnitude of 7.9 has struck 175 miles southeast of Kodiak, Alaska, triggering tsunami alerts as far south as the Mexico border.
The most immediate threat is to Alaska and British Columbia, where a tsunami warning was issued. The Anchorage Office of Emergency Management said: "If you are located in this coastal area, move inland to higher ground. Tsunami warnings mean that a tsunami with significant inundation is possible or is already occurring."
A dispatcher at the Kodiak police department answered a call from The Associated Press by saying, "If this about the tsunami, you need to get to higher ground immediately."
The magnitude of the earthquake was originally reported as 8.2, before being downgraded to 7.9, according to the U.S. Geological Survey.
A tsunami watch was issued for points up and down the West Coast of the United States, an automatic alert triggered whenever an earthquake of 7.5 magnitude occurs in the region. If a tsunami is detected, the watch would be upgraded to a warning.
Residents in affected areas have been sent texts that urge them to seek higher ground.
The National Weather Service tweeted a picture of how the event might spread from the earthquake's epicenter:
As of 5.46am ET, the National Oceanic and Atmospheric Association website was still shut down due to the government shutdown.
Residents of Kodiak, where the earthquake occurred in the middle of the night, have reported tsunami sirens going off after the earthquake.
This is a breaking news story. Please refresh for updates
Item Category: Uncategorized_gottaremovethis_
Myanmar's Case Against Two Reuters Reporters Is a War on the Truth
Tue, 23 Jan 2018 10:18:47 +0000
It's hard to hide a massacre, but that hasn't stopped Myanmar from trying. Satellites see the destruction, survivors speak out, and few things make reporters more determined fact-finders than being told their senses have tricked them. Though as hard as it is to conceal, the truth is also difficult to prove; courts require layers of evidence.
So it was alarming when Wa Lone and Kyaw Soe Oo, two Burmese reporters for Reuters, disappeared one night in mid-December, after accepting an invitation by police officers to meet over dinner. Authorities later said the pair, held incommunicado, had been arrested for possession of "official secrets" related to a military campaign in the country's west, intending to share them with foreign media.
Their continued detention after appearing in a Yangon court on Tuesday was the latest disappointment in Myanmar, where what briefly looked like democratic progress is being violently derailed. But the real moment of truth came and went during a televised address last year, when Aung San Suu Kyi, the Nobel laureate who now leads the government, remained mystifyingly silent about allegations that the military abused the country's one million Rohingya Muslims. The common conclusion was that she was either politically handicapped by the military, which still controls key levers of power, or delusional.
The violations Myanmar's security forces are accused of are a global concern; the U.S. called it ethnic cleansing, while the U.N. human rights chief said he couldn't rule out "elements of genocide." Fleeing what they described as a campaign of arson, rape and murder, more than 655,000 Rohingya, a persecuted and mostly stateless minority, fled to Bangladesh since Aug. 25, when an insurgent attack triggered army reprisals. The world was left with a moral crisis, a staggering food and medical emergency and a new security threat; the more Rohingya suffer, the more violent extremists will co-opt their cause and try to recruit them.
Despite official denials, a partial picture of what happened to the Rohingya exists largely because news organizations, and especially Reuters, have documented it. In 2014, Reuters won a Pulitzer Prize for exposing the human trafficking networks that caused a regional migration crisis and killed thousands of people. After elections in 2015, their Yangon bureau expanded while others were in retreat, posturing them on the frontline as the current crisis unfolded. Their reporting may have helped corner the army into a rare admission of the existence of a mass grave bearing 10 Rohingya bodies.
The two reporters now facing 14-year prison sentences were recently hired by Reuters, plucked from jobs at local newspapers. Friends and colleagues say Wa Lone, 31, is known for his kindness and love of literature; he has written a children's book, and devoted much of his spare time to charity work benefiting orphans. Kyaw Soe Oo, 27, is a Buddhist who grew up in Rakhine state, ground zero of the Rohingya crisis. He reports impartially on the ethnic and religious conflicts that ripped apart his hometown. In another nation they'd be seen as heroes, not criminals.
Read more: 'It's Dangerous to Write the Truth.' Journalists Fear the End of Press Freedom in Myanmar
"It is entirely clear that they are innocent," Stephen J. Adler, president and editor-in-chief of Reuters, said in a recent statement, calling their arrest "an egregious attack on press freedom." Reuters, the U.S. government, the E.U. and the U.N. all called for the pair's release, but they still spent more than a month behind bars. The case has had a chilling effect on other journalists, who fear they may be next. "But we should not stop doing what we always do," says Aung Naing Soe, a Burmese photojournalist who himself was recently jailed two months for flying a drone near the Parliament. Even though, he adds, "we don't know what will happen tomorrow."
Myanmar's Official Secrets Act is a colonial-era law that criminalizes the intention to share anything the government wants to conceal. A senior member of the ruling party has suggested Wa Lone and Kyaw Soe Oo may have been entrapped; the defendants told family members they were apprehended moments after the police who invited them for dinner handed over documents believed to be related to security operations in Rakhine. In a country transitioning from dictatorship to democracy, with little protection for either journalists who expose state crimes or for whistleblowers, Reuters tested the waters. They appear to be unsafe.
Myanmar is a place where ugly realities are often derided as "fake news," and the credibility of trusted institutions is under attack. Suu Kyi said in September that a "huge iceberg of misinformation" was exacerbating the crisis. The country's state-run newspaper has published op-eds accusing international media of colluding with terrorists. Yanghee Lee, the U.N. Special Rapporteur on Human Rights in Myanmar, was barred last month from entering the country because her assessments were seen as "biased and unfair." She called the move a strong indication the government is hiding "something terribly awful."
Myanmar and Bangladesh have agreed to soon begin returning hundreds of thousands of Rohingya refugees to Rakhine, despite warnings from human rights groups and U.N. agencies that it's too soon. If the process resumes, after it was postponed Tuesday amid clear opposition from refugees, they'll be sent back into a black hole where aid is restricted, U.N. specialists and journalists are barred, and at least one mass grave has been found. Whatever happens in that void, Myanmar authorities don't want anyone to see it.
Item Category: Uncategorized_gottaremovethis_
Inside an Opera That Uses Everything Including the Kitchen Sink to Depict the Lives of Domestic Helpers
Tue, 23 Jan 2018 09:31:56 +0000
There's a general rule of thumb in Hong Kong that when you have a child, you get a maid. That may seem like a indulgence, but hiring live-in household help—predominantly females hailing from the Philippines and Indonesia—is seen as essential and, at just $565 a month in minimum wages, highly affordable. One helper means both parents can work. Two means never worrying about groceries or figuring out how to use the washing machine. And 360,000 of them make Hong Kong's middle classes among the world's most cosseted.
The helper's side of the story is, of course, very different—but it is the tale Mila tells in a trilingual chamber opera production held last week at the Asia Society's Hong Kong venue. To previous generations of Hongkongers, welcoming a stranger into a family, who can vie for the affection and closeness normally given to a parent, is nothing new. In colonial days, many families had a lifelong helper known as an amah (after the Portuguese word for nurse). But to the newly affluent, who have no experience of managing such relationships, hiring a helper often causes a myriad of internal dysfunctions—jealousy, frustration, insecurity—that don't surface until they sadly make the Hong Kong headlines.
Creating a chamber opera that storms right into the living room of a quintessential Hong Kong family, grappling with these issues, is quirky, quintessentially Hong Kong, and bold. Conceived by award-winning local playwright Candace Chong, with music by Eli Marshall, stage direction by Chan Chu Hei, and conducted by Neal Goren, the hour-long production must be one of the first of its kind anywhere to use opera to confront the problems of modern-day domestic workers. With kitchenware doubling as instruments, Mila also asks first and foremost what it means to be a modern family.
"Domestic helpers in Hong Kong... [have] become a significant population and they're important to Hong Kong's family, especially me as a working mom," says Chong, who has a track record of confronting social issues in her plays such as The French Kiss (2006) and The Wild Boar (2012). "They seem so invisible. If we cannot fight for the best rights for them, at least we can treat them better."
Over three years in development, Mila captures the fraught, quotidian life of a posh Hong Kong family with a new Filipino maid—the eponymous Mila (Stefanie Quentin, soprano). She's the thirteenth to enter the unhappy home where, even 53 floors suspended above a pool, the family is drowning in unhappiness. Mila's employers are a married couple called Sir (Joseph Beutel, bass-baritone) and Ma'am (Amanda Li, soprano)—the former a high-powered white philanderer, the latter a paranoid Chinese tiger mom. They're too absorbed in their own bills and bickering to notice the suicidal thoughts plaguing their son, Little Master (Joanne Shao, Soprano), who spends most of the show stressing over his grades and gravitating to the balcony. Mila is desperate to a save a son that's not hers from the same fate of a daughter that once was.
It's a disturbing tale. Depression, loneliness, disappointment, mistrust—these family tensions are not unique to Hong Kong. But what is unique to Hong Kong is the way helpers like Mila can become the scapegoat. Mila does her best to tiptoe around her employers' volcanic marriage. But each of their own worlds of inner turmoil—sung in their native languages English, Cantonese, and Tagalog, with subtitles projected in the back—collide on stage. Mila's employers are too busy lashing out at Mila about bad eggs to realize at some level, they're all singing the same language. "We all work so hard, but enjoy so little," they both sing. "If anyone should jump from the balcony, it should be me."
Foreign domestic workers (or FDWs, to use the common abbreviation) have supplied Hong Kong with a integral source of labor since the late 1970s. They come from Southeast Asia to earn three times more than what they would at home. Today they make up 9% of Hong Kong's workforce and are employed by 11% of households. They tutor, they cook, they clean, and in many cases, become part of the family. They also support their home economies in the form of remittances: In 2015, total remittance income from overseas Philippine workers amounted to $28.5 billion—equivalent to 10% of the Philippines' GDP.
But for all the growth they stimulate, helpers are systematically disenfranchised in Hong Kong. Unlike expatriates who obtain the right to abode after seven years, FDWs are legally barred from such, meaning that after decades of residency they can simply be told to leave. Their contracts require them to live with their employers—a nightmare if the employer is abusive or sexually predatory. A 2016 report by human-rights nonprofit Justice Centre found that 1 in 6 domestic workers was a victim of forced labor and faced physical and mental abuse. Some 16% of those were trafficked, according to the report. Amnesty International has even classified FDWs as "modern day slaves."
"They're hired laborers. We talk about workplace rights, so why can't we think about the workplace as a home and treat FDWs as proper employees?" says Lisa Leung, associate professor in the department of cultural studies at Lingnan University, and author of Understanding South Asian Minorities in Hong Kong.
In the last two years, greater interest has been shown in the plight of helpers. Two documentaries, Sunday Beauty Queen (2016) and The Helper (2017) shed light on the lives of these women beyond the home. A play, Not The Maids, was put on last August. And in 2015, So Mei Chi authored Strangers at Home, a book that tracked the stories of these women back to their home countries and inspired Chong to write the script for Mila.
"I think recently Hong Kong people are more and more concerned about social issues," says Chong. "They seem to be more interested in art about social issues."
But as that sort of art goes, Mila is in a category of its own, with orchestration as unorthodox as its subject matter. The players are arranged in a kitchen. Rows of alcohol bottles—Bombay Sapphire, Asahi, Chardonnay, Stella Artois, filled and tuned with water—perched above xylophones. From an overhead beam hung pots and pans. Tubs of dishes sat on the floor. Industrial pipes lined the wall. "It's sort of everything including the kitchen sink," said Marshall. "You can't get away from the noise, even on the 53rd story."
"What [Mila] really has done was take all those elements and root them in Hong Kong," says Ken Smith, columnist for Opera China magazine and the Asian performing arts critic of the Financial Times. The production lacks cohesion, but nevertheless, "It's a strong piece," he says. "The thing that it was supposed to do was start a dialogue in the way art is supposed to do. I would like to see an interesting piece more than one that plays by the rule books, that does everything it's supposed to do than ultimately is not that challenging."
Mila poses its most important challenges in the climax. Ma'am and Sir are driving and quarreling. "Why can't we get a new maid?" Ma'am implores her husband. Mila is lazy, a poor cook, she has sad eyes—rambling off excuses rooted in her deep-seeded suspicion that Mila is covering up for husband's affair. Sir pushes back: no more maids, no more interviews, no more strangers. Ma'am retreats and sulks. She swipes through an app on her phone connected to home video surveillance—a common trend among paranoid parents—projected on a stage screen. Mila jumps off the balcony.
In the final scene, against a pale blue digital ocean scape, Mila floats. The ghost of her daughter, Rosa, returns. Steering her to heaven, she says, "You're paid to be a brief period in his life."
The parallels to real Hong Kong headlines are shocking and not lost on anyone. "But the story was worth telling," says Alice Mong, executive director of the Asia Society Hong Kong. "In the end, I feel we need talk about it. It's reality."
No one is this more of a reality to than the domestic helpers for whom a Sunday matinee was specially held. For most of the show, the audience laughed ruefully at the real, ridiculous demands of the Ma'am and Sir, but they fell into a deep hush when Mila (Quentin) choked up delivering a speech to them in Tagalog. Growing up in the Philippines, Quentin had aunts who worked as domestic helpers (not in Hong Kong but in the Middle East).
"I know the loneliness that [my aunts] felt being away from their families, taking care of other children while they can't take care of their own children," she previously told TIME. In her speech, Quentin dedicated the applause to the helpers and thanked them for their sacrifices.
"I felt sad. We cried because we feel how Mila feels," said Malou Empig, 48, a Filipino helper in Hong Kong for 26 years. Surrounded by about a dozen friends, they all nodded in agreement. "It reflects us a lot because of the way we make sacrifices in order to earn money to support the family back home. And it makes us really sad. It was true."
"Hong Kong people need to watch this show," says Wina Ocuz, 31, an Indonesian helper for nine years. "This story is us. This is our life here."
Item Category: Uncategorized_gottaremovethis_
The Bachelor Recap: Bekah Reveals Her Age and Women Eat Worms to Prove Who Loves Arie the Most
Tue, 23 Jan 2018 07:43:15 +0000
Welcome back to The Bachelor, where recycled star Arie Luyendyk still has 15 chances to find love on reality television. We've reached the point in the season where Arie is taking his show on the road, so Chris Harrison can get a few more stamps on his passport, and the women can leave the comfortable confines of The Bachelor mansion for the shores of Lake Tahoe. We've also reached the point in the season where at least one contestant has started referring to herself in the third person. ("This is such a good place for Kendall," said Kendall.)
Here's what else happened on The Bachelor:
Parasail Away
Seinne, the Yale-educated woman who is apparently not too smart to be on The Bachelor, is invited to go para-sailing with Arie and all the other women watch through binoculars from the deck of their house.
Krystal, who is not at all jealous, says that while Seinne has a date today, she will most likely be going home tonight. When Seinne runs for president someday, Krystal will definitely not vote for her. Despite the fact that she's way too good for him, Seinne really likes Arie. However, like every other person who resorts to looking for love on reality television, she hasn't been in love in a long time and has built up some walls around herself. While normally that sort of admission sets a contestant up for immediate dismissal, Arie and Seinne make out on the beach.
Then Arie takes her to the Hard Rock Café, where she grills him about his love life and talks about her fears and the fact that as an African-American woman she never had fairy tale role models. Arie appreciates her honesty and vulnerability and rewards her with the Date Rose. Then he takes her to slow dance on a podium in front of a crowd while clean country crooners Lanco serenade them.
Fairy Tale on Hiatus
Maquelle is on the phone, which does not bode well, because cell phones are strictly forbidden in Bachelor land. That means it's either an ex-boyfriend who wants to get back together or a family tragedy. Sure enough, it's her mother reporting that her grandfather passed away. She packs her bags and her roses and leaves. She'll probably be back.
Bachelor/Survivor Crossover
For the group date, Arie takes a Whitman's Sampler of Chelseas, Krystals, Laurens, Tias, and Brittanys out into the woods around Lake Tahoe to teach them survival skills. Hopefully that means a Bachelor/Survivor crossover of our dreams is coming to television soon. A former Green Beret teaches the women how to not die in the next hour or two while encouraging them to drink their own urine and eat maggots and earthworms while it snows. "I would drink my pee for Arie," said Jenna. While some of the girls wilt at the prospect of eating bugs or drinking waste, Kendall says, "This is the kind of date where Kendall shines." Then she eats a worm, but because Arie eats one, too, they can still make out in the woods. The women are then let loose in the woods with a map that one assumes simply reads "Hot Tub Here." They navigate to it in no time, because hot tubs are basically Bachelor bait.
Cabin in the Woods
At the after party, Arie takes the women to a forest cabin, which would be creepy if this was a horror movie. He and Kendall take a moment to stare into each other's eyes and Arie deems her "quirky" yet still sexy. She promises to bring her taxidermied duck to the Rose Ceremony. Krystal is not having fun, because she had to compete for Arie's attention today and she did not like that. "It's hard," she pouts while making puppy eyes at Arie. He comforts her, even sending Tia away to comfort her more, because he is a sucker. "I am just floored with the insecurities and immaturity," Krystal says later. "I don't know how I'm going to get through the elimination of all these women." She also says "like..." so often that even The Bachelor started trolling her on social media.
Turns out that Krystal had her feelings hurt earlier so decides to confront Tia and some other woman about their behavior, which didn't go over very well. Tia ends up walking away and pulling a Krystal and asking Arie to comfort her. He assures her that he cares about her (and at least 12 of the remaining 15 women, but also her). Tia plays it right and is both open and vulnerable, and it works—Arie gives her the Date Rose. That makes Krystal pout even more, which one would not think was possible.
Baby Cakes
The producers really want viewers to know that Bekah M. is a baby who is 14 years younger than Arie. "Arie is looking for a woman, not a girl," says Krystal. Everyone seems to know except Arie, who will presumably find out on this date—as soon as they stop making out in a hot tub in the woods.
They finally emerge from the hot tub, leave the woods behind, and head to a quiet dinner by the fire. Arie wants to know if Bekah is ready to get married and settle down, because that's why he is on this dang show again. Bekah asks, "Do you know how old I am?" and then tells him that she is 22. Arie replies, "Oh my god. Twenty-two?! You're so young. Have you ever dated someone my age?" Which is pretty much the four stages of grief of a man realizing someone is way too young for him. Arie's motherboard seems to shut down at that point and he stares blankly into space while Bekah tries to explain that she is very mature for her age. He gives her the rose, but he gives it with a lot of reservations. He threads his finger through her hoop earring and kisses her.
The Rose Ceremony
While the women wait for the champagne to start pouring, Chris Harrison comes in and tells them that the cocktail party is cancelled. As the ceremony begins, Krystal calls for a time out and asks Arie for a quiet moment away to remind him that he once loved Emily Maynard and can love her, too. Arie listens politely before doling out roses to a string of other women—Kendall, Lauren, Ashley, Bekah, Chelsea, and a whole bunch of other women. Then it's the final rose and he hands it to Krystal who almost dies from the cold sweats even though she, like, totally had a lot of faith in their strong relationship. The first thing one woman does when she realizes she is leaving is to take off her heels, which is hard not to respect.
Item Category: Uncategorized_gottaremovethis_
A Publisher of Banned Books, Imprisoned by China in 2015, Has Disappeared Again
Tue, 23 Jan 2018 06:50:47 +0000
Chinese authorities have again seized a man who, in 2015, was one of five affiliates of a Hong Kong publishing company, Mighty Current Media, spirited away by mainland authorities.
Last weekend, around 10 plain-clothes police officers escorted Gui Minhai from a train traveling from China's eastern coastal city of Ningbo to Beijing, his daughter Angela Gui told Hong Kong's South China Morning Post Monday.
Gui Minhai— a naturalized Swedish citizen — was traveling with two Swedish diplomats when he was detained, his daughter said.
In a statement issued to multiple outlets, Sweden's foreign minister Margot Wallström said that her government had "detailed knowledge" of Gui Minhai 's arrest and had summoned China's ambassador.
Read more: The Fate of China's Freest City Could Depend on This One Frail Bookseller
"The situation has worsened since Saturday morning and the Ministry for Foreign Affairs has been working around the clock on this matter ever since," the minister's statement said.
The 2015 disappearance of Gui Minhai and four other Hong Kong-based publishers and booksellers — who sold books banned on the mainland — provoked consternation in the semi-autonomous territory, where many regarded it as an incursion into Hong Kong's sovereignty. The five later appeared in Chinese custody and gave statements saying they had gone to the mainland voluntarily.
Angela Gui told the New York Times that her father, who China formally released from detention last October, had been living in Nigbo and was required to report regularly to Chinese authorities. Gui Minhai was reportedly en route to Beijing's Swedish Embassy for a medical examination when police boarded the train and ushered him away.
Item Category: Uncategorized_gottaremovethis_
A Hijab-Wearing Model Has Pulled Out of a L'Oreal Campaign After a Backlash Over Her 'Anti-Israel' Tweets
Tue, 23 Jan 2018 06:27:16 +0000
British beauty blogger Amena Khan says she's stepping down from a L'Oreal ad campaign after tweets she wrote in 2014 were criticized as "anti-Israel," the BBC reports.
"With deep regret, I've decided to step down from this campaign because the current conversations surrounding it detract from the positive and inclusive sentiment it set out to deliver," Khan wrote in an Instagram post.
Khan was accused of expressing "anti-Israel" sentiments in Tweets from 2014. Khan wrote in her post that she had deleted the tweets because "they do not represent the message of harmony that I stand for." She apologized for "upset and hurt that they have caused."
Just last week, Khan excitedly announced her role in the "game-changing" campaign, where she would have been the first woman in a hijab to participate in a mainstream hair care advertisement.
"It's a platform for diverse voices and women who don't fit the very narrow mold of beauty," she told the BBC.
"We have recently been made aware of a series of tweets posted in 2014 by Amena Kahn, who was featured in a U.K. advertising campaign," L'Oreal Paris spokesperson told the BBC.
"We appreciate that Amena has since apologized for the content of these tweets and the offense they have caused. L'Oreal Paris is committed to tolerance and respect towards all people. We agree with her decision to step down from the campaign."
[BBC]
Item Category: Uncategorized_gottaremovethis_
Neil Diamond Has Retired From Touring After Being Diagnosed With Parkinson's Disease
Tue, 23 Jan 2018 05:49:44 +0000
Neil Diamond will no longer be touring due to his recent diagnosis of Parkinson's disease.
The singer, who turns 77 on Jan. 24, announced his illness on his website Monday.
"It is with great reluctance and disappointment that I announce my retirement from concert touring. I have been so honored to bring my shows to the public for the past 50 years," Diamond said."My sincerest apologies to everyone who purchased tickets and were planning to come to the upcoming shows."
The statement also explained that the onset of the Parkinson's disease has "made it difficult to travel and perform on a large scale basis but will allow Mr. Diamond to continue his writing, recording and development of new projects."
Diamond added, "I plan to remain active in writing, recording and other projects for a long time to come. My thanks goes out to my loyal and devoted audiences around the world. You will always have my appreciation for your support and encouragement. This ride has been 'so good, so good, so good' thanks to you."
Parkinson's disease is a neurological disorder with no cure. Symptoms include tremors, stiffness and difficulty balancing, walking and coordinating movement.
Due to doctor's orders, the third leg of his 50th Anniversary tour has been canceled including the Australia and New Zealand dates that were scheduled to kick off in March.
With over 130 million albums sold, a Grammy win and a spot in the Rock 'n' Roll Hall of Fame, Diamond's long list of hits include "I'm a Believer" (1967), "Red Red Wine" (1967), "Sweet Caroline (Good Times Never Seemed So Good)" (1969) and "Cracklin' Rosie" (1970).
Fans across the country last saw Diamond perform "Sweet Caroline" during FOX's New Year's Eve with Steve Harvey: Live From Times Square when he encouraged the large New York City crowd to join him in singing.
The Recording Academy will honor Diamond with its prestigious Lifetime Achievement Award during the Grammy Awards on Jan. 28, airing on CBS at 7:30 p.m. EST.
This article originally appeared on People.com.
Item Category: Uncategorized_gottaremovethis_
A Man Calling CNN 'Fake News' Has Been Arrested After Allegedly Threatening to Kill the Network's Employees
Tue, 23 Jan 2018 05:39:39 +0000
A Michigan man has been arrested for allegedly threatening to carry out a mass shooting at CNN's Atlanta headquarters in a series of hostile phone calls earlier this month.
The man threatened CNN operators in 22 separate phone calls on Jan. 9 and 10, in which he allegedly called the network "Fake News" and threatened CNN employees with violence, Atlanta CBS affiliate WGCL-TV reported. "I'm coming to gun you all down," he reportedly said.
"I'm smarter than you. More powerful than you. I have more guns than you. More manpower. Your cast is about to get gunned down in a matter of hours," the man allegedly told a CNN operator, according to WGCL-TV. "I am coming to Georgia right now to go to the CNN headquarters to f-ing gun every single last one of you."
The FBI launched an investigation into the caller, who was identified by released federal court documents as Brandon Griesemer of Novi, Michigan, a suburb of Detroit, according to ABC15 Arizona. Local police had previously looked into threatening calls made from the same phone number to the Islamic Center of Ann Arbor, Michigan in Sept, ABC15 reports, helping a CNN-employed investigator trace the calls to a number associated with Griesemer's parents.
CNN said that it "takes any threats to CNN employees or workplaces, around the world, extremely seriously," in a statement posted to Twitter.
"This one is no exception," the statement continued. "We have been in touch with local and federal law enforcement throughout, and have taken all necessary measures to ensure the safety of our people," the statement read.
CNN has been singled out as a particular target for media criticism under President Donald Trump's administration, with numerous White House officials dismissing the network's reporting as "Fake News." Trump has repeatedly retweeted images or cartoons doctored to portray violence against the CNN logo, and complained in Nov. that the network's international operation portrays the U.S. "very poorly."
CNN was cited in four of the 11 "Fake News Awards" the administration unveiled last week to highlight what it claims is unfair treatment by the press — the most of any news organization.
Last year, the network boycotted the White House Christmas Party, citing Trump's "continued attacks on freedom of the press and CNN."
Item Category: Uncategorized_gottaremovethis_
Olympic Fans Rejoice. Norway's Crazy Curling Pants Are Back for the 2018 Olympics
Tue, 23 Jan 2018 05:04:04 +0000
Norway's curling pants are making an appearance at the 2018 PyeongChang Olympics. The Norway curling pants, and their multi-colored, checkered design, were initially a hit at the 2010 Olympics in Vancouver.
Norway Curling Pants at the 2010 Vancouver Olympics
The outfits developed a cult following during those Olympics; a Facebook page, Norwegian Olympic Curling Team's Pants, swelled to more than 575,00o followers. Loudmouth, the company that makes the pants, saw a 40% increase in sales.
The unsightly curling pants returned for the Sochi Olympics, but they didn't help Norway as much as they did in Vancouver: Norway's curling team won a silver medal in 2010, but did not bring home any hardware in Russia.
Norway Curling Pants at the 2014 Sochi Olympics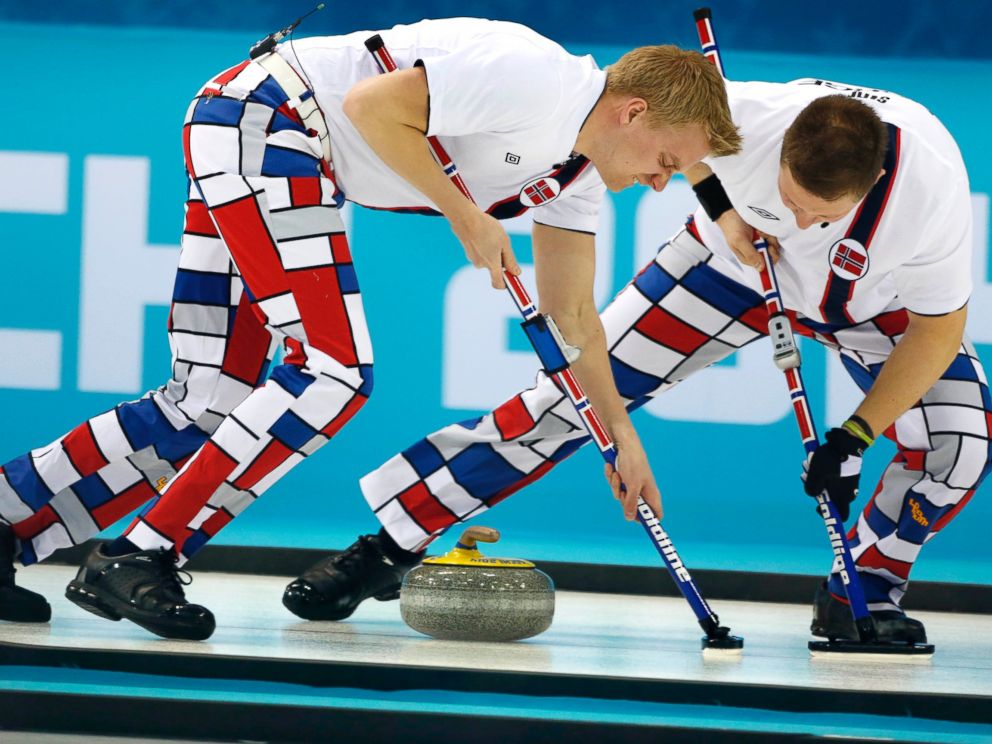 So what do the Norway curling pants look like this time around? Loudmouth came up with a new design, dubbed "Icicles," from the 2018 Olympics. Check them out below.
Norway Curling Pants at the 2018 PyeongChang Olympics
Norwegian curler Christoffer Save (left, above) doesn't seem to mind wearing pants that look like a baby threw paint on them. "Whatever they come up with, we're never really surprised," Save tells TIME. "We've seen it all."
Save and teammates (from left to right, above) Haavard Peterson, Thomas Ulsrud, and Torger Nergaard have competed in the Loudmouth pants at the last two Olympics, and have qualified for PyeongChang.
The Loudmouth sponsorship has helped fund the Norwegian curling team's Olympic aspirations, and given the curlers some notoriety. "If I'm walking down a main street in Oslo wearing the Loudmouth pants, people say, 'oh, that's the curling guy," says Save. He sometimes even gets recognized in Canada, where curling is particularly popular, while wearing normal pants.
What should fans expect from Norway's curling team in South Korea? "We're excited to play our hearts out," says Save. While blinding millions of viewers with their pants, once again.
Item Category: Uncategorized_gottaremovethis_
Pope Francis apologized for insisting that victims of pedophile priests show "proof" to be believed, saying he realized it was a "slap in the face" to victims that he never intended.
But he doubled down on defending a Chilean bishop accused by victims of covering up for the country's most notorious pedophile priest, and he repeated that anyone who makes such accusations without providing evidence is guilty of slander.
Francis issued the partial mea culpa in an airborne press conference late Sunday as he returned home from Chile and Peru, where the clergy abuse scandal and his own comments plunged the Chilean church into renewed crisis and revived questions about whether Francis "gets it" about abuse.
Francis insisted that to date no one had provided him with evidence that Bishop Juan Barros was complicit in keeping quiet about the perversions of the Rev. Fernando Karadima, the charismatic Chilean priest who was sanctioned by the Vatican in 2011 for molesting and fondling minors in his Santiago parish.
Flying home from the most contested trip of his papacy, Francis said Barros would remain bishop of Osorno, Chile as long as there's no evidence implicating him in the cover-up.
"I can't condemn him because I don't have evidence," Francis said. "But I'm also convinced that he's innocent."
Karadima was removed from ministry and sentenced by the Vatican in 2011 to a lifetime of penance and prayer based on the testimony of his victims, who said they were all molested by him in the swank parish he headed in the El Bosque area of Santiago. A Chilean judge also found the victims to be credible, saying that while she had to drop criminal charges against Karadima because too much time had passed, proof of his crimes wasn't lacking.
Three of the victims testified before Chilean prosecutors and others have also said publicly for years that Barros, one of Karadima's proteges, witnessed the abuse and did nothing to stop it.
Barros denies the accusations.
"The best thing is for those who believe this to bring the evidence forward," Francis said. "In this moment I don't think it's this way, because I don't have it, but I have an open heart to receive them."
Juan Carlos Cruz, the most vocal of the accusers against Karadima and Barros who testified in court about the cover-up, responded with a statement to The Associated Press: "If he wanted evidence, why didn't he reach out to us when we were willing to reaffirm the testimony that not only us, but so many witnesses, have been providing for more than 15 years?"
Francis, though, repeated again that anyone who makes an accusation without providing evidence is guilty of slander.
"Someone who accuses insistently without evidence, this is calumny," he said. "If I say 'you stole something, you stole something,' I'm slandering you because I don't have evidence."
He acknowledged that he misspoke when he said he needed to see "proof" to believe the accusations, saying it was a legal term that he didn't intend. He corrected himself and used the
---
---
More From ChristiansUnite... About Us | Privacy Policy | | ChristiansUnite.com Site Map | Statement of Beliefs
---
Copyright © 1999-2016 ChristiansUnite.com. All rights reserved.
Please send your questions, comments, or bug reports to the